✘ The Place 2 Be – UNI ✘
Am 09.04.2022 in Wasserburg
---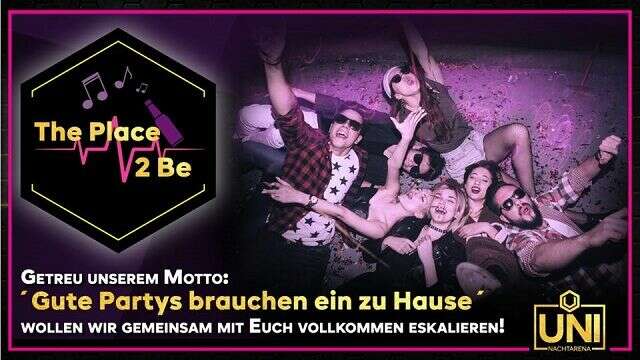 ✘✘✘ The Place 2 Be – UNI
Alle reden von der perfekten Party, aber
keiner hat sie bisher geschmissen 🤯
Das ändern wir heute!
Getreu unserem Motto
'Gute Partys brauchen ein zu Hause'
wollen wir gemeinsam mit Euch
vollkommen eskalieren! 🔥
_________________________________
↓↓ ⭐️ NIGHTFACTS ⭐️ ↓↓
► THE PLACE TO BE 🥂
Wir empfangen euch mit einer XXL CANDYBAR.
► GÄNSEHAUT ESKALATION 🎊
Wir befreien uns von allen Zwängen und genießen unsere Freiheit mit Konfettiregen, exklusiver Feuershow, CO2 Effects, Special Dance Acts & LED Festival Sticks
► CRAZY GLÜCKSRAD 🍀
Gewinne viele tolle Überraschungen.
_________________________________
↓↓ ⭐️ SPECIALS ⭐️ ↓↓
✖ Der Klügere kippt nach 🥂
Wildberry, Hugo & Sprizz 0,2l – 3,50 €
✖ Tonic ohne Alkohol ist Ginlos 💧
Gin-Tonic – 7,50€
✖ Der Letzte Wille – noch mehr Promille 🤩
Unser DJ verteilt 200 Klopfer
✖ Nüchtern betrachtet, war es betrunken besser 🎉
Coca Cola 0,33l – 2,50€
_________________________________
🕓 Einlass ab 22 Uhr und 18 Jahren
💲 Eintritt: 7 €
🎵 Musik: mixed music
Mit AUFSICHT ist der Einlass ab 17 J. möglich:
╰▶ https://www.disco-uni.de/images/Muttizettel.pdf
---