Echelon Festival 2022
Am 20.08.2022 in Bad Aibling
---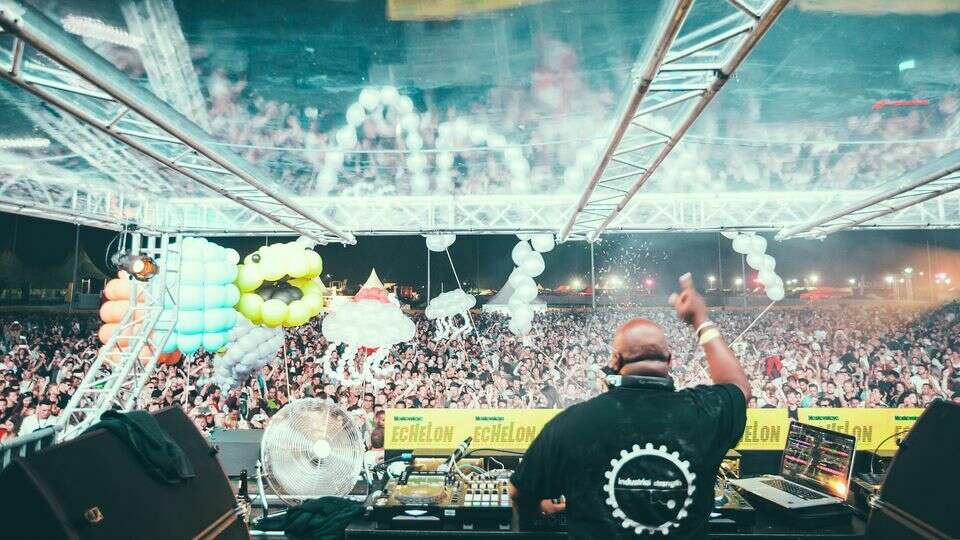 ✘ Echelon Open Air & indoor Festival 2022 ✘
Jetzt an 3 Tagen! Von Freitagmittag bis Sonntagabend kann erstmalig beim Echelon gefeiert werden. Länger denn je zuvor.
Erlebe drei beispiellose Rave-Tage mit über 100 internationalen und nationalen Künstlern der absoluten Spitzenklasse. 🔥
Jährlich findet auf der ehem. U.S. Kaserne in Bad Aibling im Süden Deutschlands – mit einem atemberaubenden Blick auf das Bergpanorama der Alpen – das massive Open Air, Indoor & Camping Festival vor sechs eindrucksvollen Bühnen statt!
Dort erwarten Euch alle möglichen Stile der elektronischen Musik, außerdem tolle Shows und Deko! Erlebt einen größeren Freitag mit noch mehr Acts und den gewohnt spektakulären Samstag, der Euch an Eure Grenzen bringen wird.
Das Wochenende vom 19. bis 21. August 2022 wird mit diesem neuen Freitag auf zwei riesigen indoor Floors, einem größeren Campingbereich und neuen Attraktionen erweitert. Ein ganz neues, noch mächtigeres Echelon-Feeling wartet auf Euch!
Tanzt direkt neben den berühmten Radomen der Echelon-Abhör-Anlage, von Mittag bis tief in die Nacht, beim verrücktesten Happening des Jahres!
Let's be weird again – together!
✘ Ehemalige US-Kaserne, Bad Aibling
✘ 19-21.08.2022 (3 Tage tanzen)
✘ Camping von FR – SO
✘ 6 Stages
✘ über 100 Artists
✘ Homepage: www.echelon-openair.de
✘ Full Line-Up A-Z
999999999 live
ACRAZE
Airod
AKA AKA
Alle Farben
Amelie Lens
Animal Trainer
Beachbag
Blasterjaxx
Brandon
Brennan Heart
Carl Cox
Cellini
Charlotte de Witte
Claptone
Coeus
Da Tweekaz
Dax J
Deborah de Luca
Dirty Doering
Einmusik
Elli Acula
Enrico Sangiuliano
Eskei83
Exil der Schatten
Extrawelt live
Farrago
Fatima Hajji
Felix Kröcher
FJAAK DJ Set
Format:B
Fritz Kalkbrenner live
Glockenbach
Gregor Tresher
Harris & Ford
Hidden Empire
Hugel
Human Rias
I Hate Models
James Hype
Jan Blomqvist live
Jan Oberlaender
Klangkuenstler
Klaudia Gawlas
Kobosil
Lilly Palmer
Lost Frequencies
Marcus Meinhardt
Marika Rossa
Mark Dekoda
Marten Hørger
Mausio
Monika Kruse
Moonbootica
Neelix live
Oliver Koletzki
Pan-Pot
Pappenheimer
Philipp Straub
Pleasurekraft
Ran-D
Regal
Reinier Zonneveld live
Richie Hawtin
Rikhter live
Sam Paganini
Sascha Braemer
Solee
Somewhen
Spektre live
Stefanie Raschke
Stella Bossi
Steve Looney
Super Flu
T78
Tale of Us
Township Rebellion
Tube & Berger
Victor Ruiz
Vini Vici
Vize
W&W
✘ FAQ
✘ Ab wie viel Jahren ist das Echelon?
– Freitag ab 16 Jahren bis 00:00 Uhr
– Samstag ab 16 Jahren bis 00:00 Uhr
– Sonntag ab 16 Jahren bis 00:00 Uhr
– Full Weekend ab 18 Jahren
– Camping ab 18 Jahren
✘ Du hast noch weitere Fragen?
– Schreib uns an die info@echelon-festival.de
✘ Ausführliches FAQ auf: www.echelon-openair.de
✘ Partner:
Desperados
Red Bull
Cola
Jack Daniels
Kräuter Liesl
Flötzinger Bräu Rosenheim
✘ Interessierte Standbetreiber:
Bitte an leslie@permanent-entertainment.com wenden
---